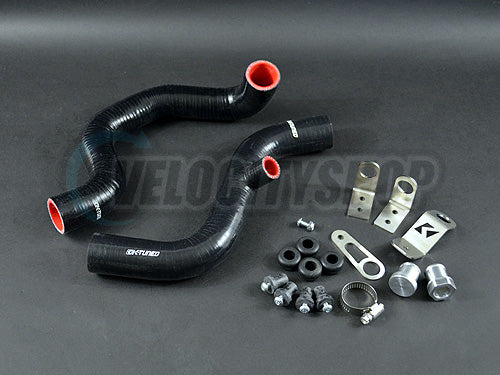 K-Tuned Driver Side Radiator Hoses with Rad Brackets Kit EG EK
Please Contact us for an ETA.
Have a question on this product?
K-Tuned  Radiator Hose w/ Radiator relocation bracket for K Swap using a EG/EK B Series Radiator is complete rad relocation package.  It comes with a  set of  the Driver side 4-ply silicone radiator hoses with bolt-on chassis bracket for the EG and EK.
These high quality hose kits are designed to make your life easier when doing a K Swap.  The Driver side hoses will work with an OEM or aftermarket 92-00 Civic rad that has been relocated to the driver side.  These hose kits will work with all intake manifolds and ITB's.  No more rad install headaches or messing around with universal hoses.