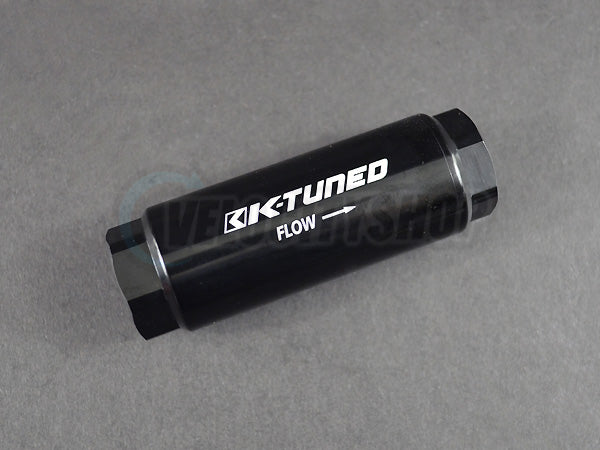 K-Tuned High Flow Fuel Filter -8AN
Please Contact us for an ETA.
Have a question on this product?
High Flow 8AN Inline Filter (KTD-MFF-808) - 300- 500 HP approx.
Fuel filter is an important part of any fuel system. They are in place to filter out any potential debris or contaminants before they reach the fuel injectors. The K-Tuned High-Flow Fuel Filters meet the fuel demands from simple street cars to all out race cars. They are made with 6061 aluminum and suitable for use with alcohol, E85 and all other race fuels. The 2 important features that make this possible are the hard anodized body and the high quality stainless steel mesh filters. The female o-ring ports are easily connected to any size fuel line using standard AN port adapters.
Each filter comes with a 100 micron filter.  If you are using an aftermarket fuel pump be sure to check the pump manufacturers specs for filter micron ratings. The 8AN size filter measures 1.25" in diameter and 3.5" in length. Please note that these overall length measurements do not include the adapters at each end.