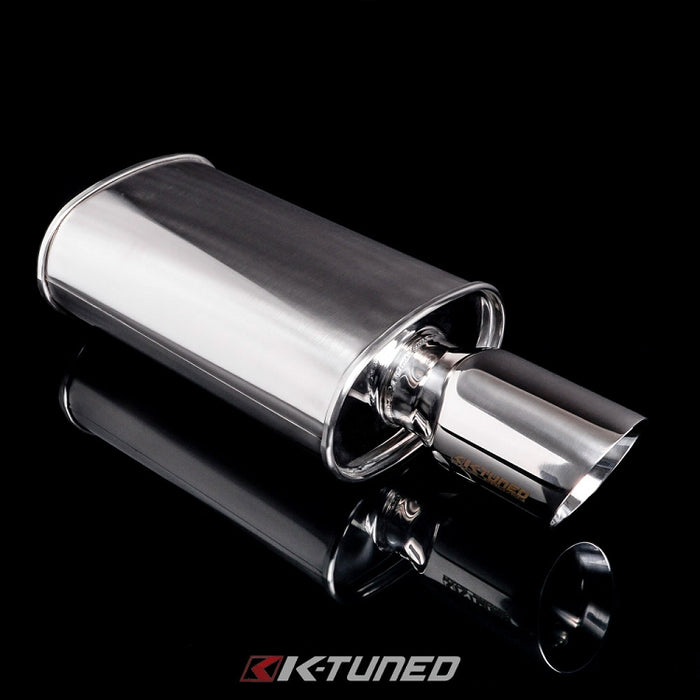 K-Tuned 2.5 Inch Universal Muffler - Brushed Finish - Long 22 Inch Length
Please Contact us for an ETA.
Have a question on this product?
K-Tuned Universal Oval Mufflers are constructed entirely of 100% T304 stainless steel, including all the internal parts. Back purge tig welding is used to keep the welds super clean, ensure proper penetration and weld strength. Design is straight through with a perforated tube, to minimize flow restriction and maximize power output. Packing or sound deadening material is one of the most important features of any muffler. While other muffler manufacturers often use lower grade packing that burns up in a short time, we selected a high quality, multi-layer, premium packing that is made to last. This will ensure that the sound you hear on day one will last for years, and not just a few months. The sound is the same low and deep tone you hear from our popular cat back systems.

Specifications
- Brushed Stainless Steel Finish
- 4" Double Wall Laser Etched Tip
- 22" overall length
- 14" long body
- 7" long tip
- center inlet / center outlet (Ideal for coupes/sedans)
- 16lbs

Check out our other mufflers for some other sizes, finishes, and options.