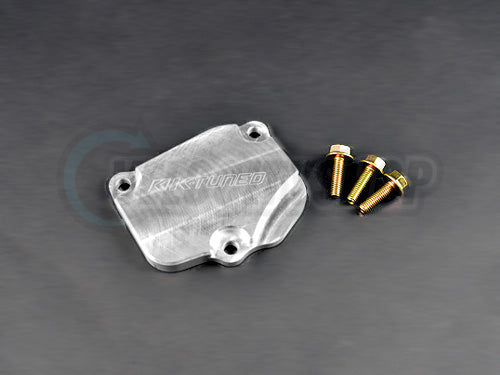 K-Tuned Tensioner Cover for K20 and K24 Engines
Please Contact us for an ETA.
Have a question on this product?
If you are the kind of guy or gal who play it safe, and ocassionally check their timing chain tensioner for wear or damage because of the upgraded camshafts installed  in your engine.   This K-Tuned Tensioner cover is for you. It makes life easier because everytime you remove your OEM stamped steel cover, you have to clean off the messy sealer that is a pain to clean off.  The OEM stamped steel cover plate often need to be replace because it usually bends when its pried off the chain case. 
Installation note: 
To install the K-Tuned Tensioner cover, remove the oem black cover and clean off all the sealer from the mounting surface for the last time. A razor blade followed by a green scotch brite pad and brake cleaner works well. After that, this K-Tuned cover bolt on plate can be installed and removed repeatedly with no sealer required.