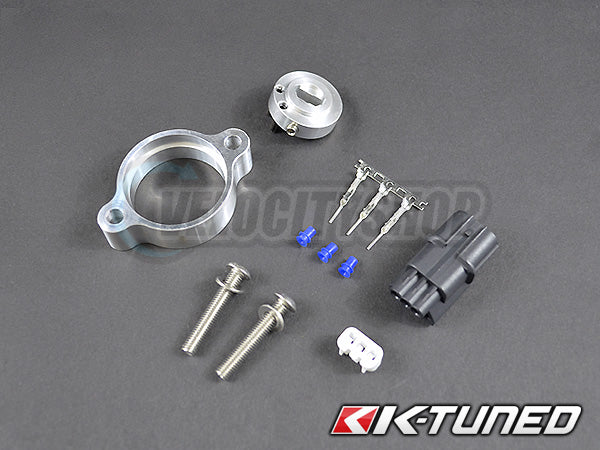 K-Tuned B-Series TPS Adapter for K20A K20A2 K20Z1 Throttle Body
Please Contact us for an ETA.
Have a question on this product?
This adapter will ONLY work on the throttle bodies listed below.
K20A Throttle Body
K20A2 Throttle Body
K20Z1 Throttle Body 
It also fits several aftermarket throttle bodies that was designed for the standard RSX Type S TPS Sensor.

NOTE: Adapter must be used with a Honda MPFI (Multi Point Fuel Injection) J3TR60659 TPS sensor. Also note that this sensor is found on several Honda models ranging in year from 1988 to 2001.

K-Tuned is one of the pioneer in this whole K-swap movement, they recently decided it was time to offer another option to help solve the well known TPS problem that continues to plague some K-Series owners.  They had decided to make an adapter that allow you you use a B-series TPS sensor on your K-Series Throttle Body, please see application chart above to fitment.
The K-Tuned B-Series TPS Adapter is a simple 2 piece adapter that makes it possible to use a 1988 to 2001 B-Series TPS on the RSX Type-S style K-Series throttle body.  This is adapter can also be used on several aftermarket TB's as long as they were originally designed for the standard Type-S TPS.  The mounting holes on both the K and B TPS are identical, so mounting is very simple using a billet aluminum spacer.
As for the actual shaft to arm conversion, K-Tuned had designed a small round adapter that bolts to the shaft of the K throttle body with a set screw. This adapter piece has two posts on it that will hold the arm on the B-Series TPS. For wiring, this kit provide a female K-Series TPS plug and 3 terminals to connect to the B-Series TPS plug that is cut off the old engine harness. The idea here is to make an adapter so that you will not need to cut your K-Series engine harness. All that's left is calibration, which is just like all Honda TPS sensors, set the reading to 0.475 volts closed and the wide open reading should be approximately 4.5 volts.
This kit includes the 2 piece adapter, female TPS plug, 3 terminals and stainless steel hardware