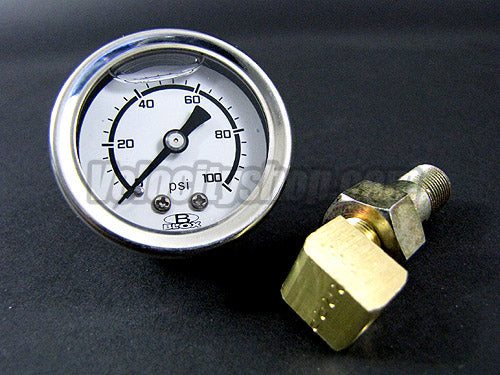 Blox Fuel Pressure Gauge Kit Liquid Filled 92-00 Civic 94-01 Integra 93-97 del Sol
Please Contact us for an ETA.
Have a question on this product?
BXGA-00111
Blox Fuel Pressure Gauge Kit Liquid Filled
Fit:
1992 Civic, 1993 Civic, 1994 Civic, 1995 Civic, 1996 Civic, 1997 Civic, 1998 Civic, 1999 Civic, 2000 Civic
1994 Integra, 1995 Integra, 1996 Integra, 1997 Integra, 1998 Integra, 1999 Integra, 2000 Integra, 2001 Integra
1993 del Sol, 1994 del Sol. 1995 del Sol. 1996 del Sol. 1997 del Sol
These Liquid filled gauges from BLOX are designed to absorb the vibrations associated with the high HP that your Honda engine puts out.  No more fluctuating needle to worry about when you are adjusting the fuel pressure if you have one of these.  Your tuner will thank you because it will make his/her job easier.